AND THEN WE UGLY CRIED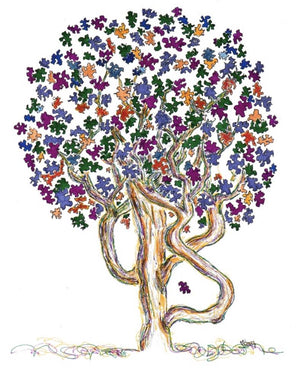 A true tale of birthdays, puzzle pieces, autism, and fear.
This is "Kevin." Yes, he's a tree, but he's also a real-life young man and he is autistic.
Kevin is 18 years old and has a twin sister, Lindsay. I've never met Kevin or his sis, but I worked with their mom, Megan, many moons ago on a variety of crazy TV shows, and I always loved her. Like most of us, the rosy lens of social media has been the bridge that has given Megan and me glimpses into our respective worlds over these years. I've watched the snapshots of her and her husband raising three kids while juggling careers, surviving driving lessons, throwing birthday parties, you get it -- life packed within the shiny shell of a FB scroll. I imagine she, too, scrolled through the adoption of our teenage foster son, my ultimate departure from "the biz," a few moves from city to city, and now my unlikely and newfound life as an artist. 
A few months ago, I heard the familiar *ping* of my FB Messenger. To my joy, Megan had written a long note. It had been years since we had connected. She told me that October would mark her twins' 18th birthday and she wondered if she could commission a tree for the family. A "Family Tree," as it were. She asked that instead of leaves, if I could somehow use puzzle pieces. She then explained her reason: When her twin daughter, Lindsay, was in kindergarten, she had made a drawing of their whole family. Everyone was there, but mysteriously one piece was missing. When her teacher asked why, little Lindsey explained that because her twin brother had autism, it was as though a piece of him was missing.
I heard Megan asking, could this 18th birthday family tree illustrate the brilliance that Lindsay had visually expressed at the ripe age of six? 
I cried. I cried because the beauty of a little girl expressing her confusion and clarity so eloquently was unbelievably moving. Then I sobbed. I sobbed because after all of these years, Megan was entrusting me with what would be the family and twins' 18th birthday gift and I didn't believe I could do it. I didn't know how to tell her, "No, I don't know how to draw that. I barely know how to do what I'm doing and I'm a fake artist and don't believe what you see because tomorrow whatever I was able to magically do today will all go away and I don't understand shading and depth and I can't even draw a real leaf let alone a real tree so why on earth would you entrust me with the most special gift for your family and besides I don't understand the nuances and depths of autism and I will let you and your family down and you will be so disappointed in me as an artist, as a human, as a friend, and as a mother." And then I cried to my husband and said that I didn't know how to break it to Megan that I would not be able to honor her thoughtful request.
Prior to this message from Megan, I had never been touched by autism. I hadn't had anyone close to me who was raising or had raised an autistic child. And since my trees all have stories, I didn't know that I could convey the heart and soul that this beautiful, powerful family deserved. I felt clumsy, ill-equipped, under-educated. But that night I remembered one thing as I was sobbing to my husband that I wouldn't be able to create this story tree. I remembered a picture I had seen on Facebook a long time ago of Kevin standing by railroad tracks. He was so full of joy! This was his nirvana! It was clear that the sights and sounds of trains rushing through was his JAM! And when looking at this photo, it was also clear that the person snapping this picture was just as happy and charged as this boy. Kevin and Megan were together by the tracks. I have never forgotten it. 
I had no idea how to draw this tree let alone tell this story, but that night I wrote Megan and said YES. I will do my best. I asked that she share with me what helps Kevin feel calm, to tell me more about the trains, to share what gives them joy when they're together.  Among other beautiful things (including the trains!), she shared that sometimes late at night, he would come to her and say, "I just want to be with you."
I began to draw having no idea what would emerge. I do everything in ink and paint so there are no "do-overs," no pencil marks to adjust or erase. The trees emerge as they are supposed to or they don't emerge at all. It's strangely out of my control — I know I sound crazy, but it's how it all happens. So, I began with a few puzzle pieces and saw that they could, in fact, represent leaves! With a wee bit of confidence, I continued. The tree was taking shape and form and I was falling in love with it, but the story still eluded me. Day-after-day the tree emerged, but the story didn't. 
A few weeks later, at around 2am, I awoke with a loud story-dream, a dream-story. It had demanded that I wake, so I groggily punched a sequence of words into my Notes on my iPhone. I remember that it rhymed and that made me happy.
I woke up the next morning with a vague sense that something had come to me it the middle of the night. And there it was — sloppily typed and typo'd into my Notes on my iPhone.
"Kevin held his breath
as the trains rushed through…
he wondered how 
and he wondered who…
he should be
just to be with you…."
"Kevin" the tree had emerged. One puzzle piece had fallen. The story had arrived and had taken its rightful place within the shade of the tree. I was out-of-my-mind excited.
I sent "KEVIN" to Megan and prayed. Prayed that I had somehow captured the complexities, patience, and deep love within her family. Prayed she would not be disappointed in me as an artist, as a human, as a friend, and as a mother.
When "Kevin" arrived to her home, and as I held my breathe, Megan texted me. 
She continued, "There have been few times when someone has done something to really see the struggle. This speaks to the twisted but beautiful life and family we have built."
I got this text and I sobbed. I ugly cried, just like Megan did. I hadn't let her down as an artist, as a human, as a friend, or as a mother. I had actively read about autism to be able to "feel" this special tree, to feel connected to Megan, Kevin, Lindsay, and their family. The gift Megan gave me was more than I could have ever given them – she had pushed me beyond what I thought I could deliver. She challenged me to say YES even when, because of fear and insecurity, I desperately wanted to say NO. 
I used to be Megan's boss. Now I am her student. And an artist. And I am grateful. Happy 18th birthday Kevin and Lindsay. You live in my heart, in the puzzle pieces, in the trees.
7 Responses
Leave a comment
Comments will be approved before showing up.