JOURNAL THE WRONG WAY & FIND FREEDOM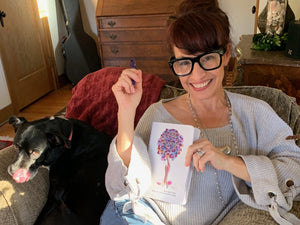 There's an old story of a man who buys a brand new Rolls Royce. As the tale goes, he takes a sledge hammer and smashes a large dent into this beautiful, pristine, luxury vehicle declaring, "Now I own you, you don't own me." The man would never have to fret about door dings from that moment on. He was free to enjoy his sweet ride without worry.
•••
Let's take this notion down to a much smaller scale. Whenever I have a new book, journal, notebook, or sketchbook, I purposefully do something "wrong" to it. That new full-priced, hardback book by Brené Brown? I underline something and sloppily write a note about it in the book. It's now all mine! A pristine, new journal? I turn it sideways, grab a glue stick and paste some weird things right in the middle. Or, more heretical yet, I rip out a page and write a grocery list. My feeling is that when we intentionally doing something "wrong" to whatever we think we're supposed to do "right," we break the spell and it no longer owns us. Freedom.
Of all things, journals should be your free space, your secret garden, your "there are no norms for this, and I can do whatever I want to" space. Please run amok. Tell your brain that this is your personal and private playtime place where anything goes. Don't try to "journal the right way." I implore you to journal sideways, crooked, backwards, with paint, pens, crayons, glue, glitter, and any other whacked-out non-conformist way you can possibly think of. Whatever you do, just please do it all wrong -- at least for one exquisite moment. Life is most magical and open to the most possibilities when we step outside of the literal and figurative lines to create our own ways of managing our personal, private world.
I'm currently operating five journals at once: I have a Gratitude Journal by my bed, two Collage Journals floating around with copious amounts of glue and Mod Podge'd pages (one that I spilled water all over, but loved the new wrinkled and swollen pages), of course I have a Tree Journal with words and names, half-baked ideas, and doodles, and I also have a Daily Tote-Around Journal with all of my notes and grocery lists and rando-stuff that needs a carefree place to live outside of my brain. And each one is a spectacular mess of freedom ~ well, except for the Gratitude Journal. I'm straight-up serious about my gratitude 'cuz Brené Brown wouldn't want me to mess that up.
Enjoy your journals! 
Here are three of mine!
Leave a comment
Comments will be approved before showing up.